OMG, has it been TWO FULL WEEKS that I've been sick? Unbelieveable. This cold (which I am just now getting over) thoroughly kicked my a*s. Whoa. And don'tcha just hate being sick with a terrible cold when the weather is warm and sunny outside? That's the worst!
Well, to recap where I've been and a little of what I've done while I've been MIA here in blogland, here are some tidbits. On the last weekend of August, my little sis drove all the way down to Southern CA to see me and hang out with my family! It was kewl. We made cards, spent some time at David's Bridal (she's getting married in early 2006), stayed up late, etc... I really enjoyed having her here. Here are some shots of our fun at the bridal shop...
Kim trying on a gown...
Julia & Kaia in the shoe dept...
Trying to keep busy...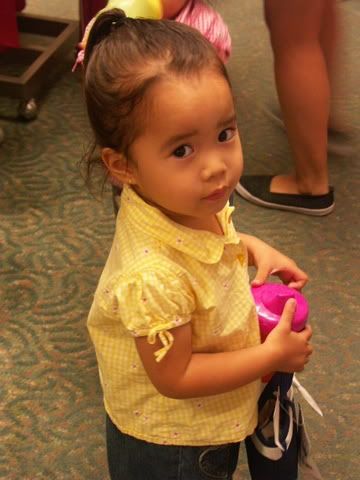 Marisa isn't having much fun...
I have more stuff to share, but I'm short on time since this is the triplets' naptime, and my once chance to do all the important stuff I've been putting off until they fell asleep! I'll be back soon!