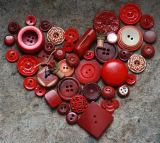 It's February... I thought I would borrow these prompts from another blog I came across the other day...
*i love the smell of: clean laundry.
*i love the sound of: children playing in the sand, with the sound of the ocean waves in the background.
*i love the taste of: cupcakes, just about any flavor... such a heavenly confection.
*i love the sight of: proof of life; in a garden, in art, in the people you see on the street.
*i love the feel of: a gentle kiss on my cheek... I'm lucky enough to get one every single day at this point in my life.
Love is the best.