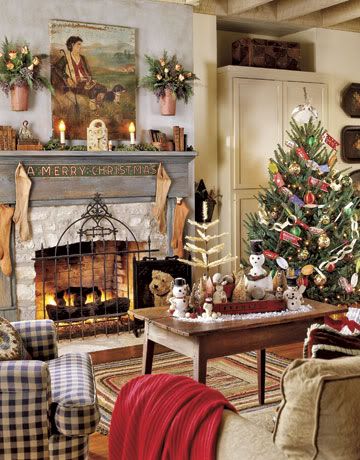 Image from Country Living



I'm participating in Red Writing's 12 Weeks of Christmas… Yes, it's only the second week of October and I've got "Christmas on the Brain" already! As of last Sunday, we are a little under 12 weeks from Christmas, hooray!
This week's theme is "Christmas List"...

I've decided not to post my Christmas wish-list, just because I don't want to seem like I am asking for things… but believe me… I have one! Mom and Dad will get that list for sure… (Maybe I'll post it at a later time, we'll see!) Instead, I've decided to put together a list of things that my family and I love to do during Christmastime.

25 Things We Do During The Christmas Season:

1. An Advent Candle Wreath, observing each night during Advent.

2. Make Christmas Cards.

3. Go to the Festival of Lights in our area.

4. Bake and eat as many Christmas cookies as humanly possible.

5. Have Christmas movie marathons, including movies like Elf, A Charlie Brown Christmas and A Christmas Story.

6. A Cookie Exchange. (yum)

7. Create handcrafted gifts of one kind or another.

8. Burn spice scented candles in the house.

9. Check amazon.com everyday to see their Daily Deal.

10. Decorate the house like crazy.

11. Scope out the local craft fairs for holiday stuff.

12. Play Christmas Songs 24/7.

13. Make a new Christmas ornament or two for the tree.

14. Attend the triplets' Christmas Recital.

15. Christmas gift shopping, of course.

16. Read The Polar Express.

17. Drive around local neighborhoods to see Christmas light displays.

18. Write letters to Santa and mail them.

19. Keep an Advent Calendar that is updated daily.

20. Donate food to a food pantry, usually at our church.

21. Drink GALLONS of hot cocoa and hot apple cider.

22. Visit the public library for story time during Winter Break.

23. Open ONE gift on Christmas Eve.

24. Do our best to teach our little ones about the true meaning of the holiday, Christ's birth.

25. Spend as much time with family as possible.