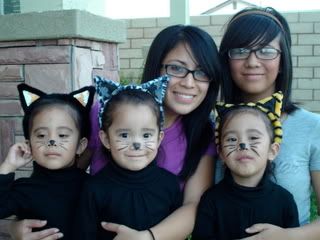 Yes, I know Halloween is over, but I still wanted to share this adorable pic of the kidlets with you! We had a great time on Halloween night, the triplets had a "preschooler" Halloween party with some friends and classmates from their preschool. So there were about 12 kids in the house that night, eating pizza & mac 'n cheese, and lots of other ORANGE food... and playing silly games and laughing and tearing my house up! It was great! Plus I got to catch up with my good friends Monica & Melissa while our little ones hung out. Good fun.
I'm totally stoked about my all-day crop today. I'm gonna head out there at about noon and scrapbook my brains out! Probably until at least 9pm or so... We'll see if I can hang in there and stay till 11pm like the rest of the "die-hards". If you aren't busy, come hang out at Inspire Me...
www.inspiremescrapbooks.net
Have a great day!